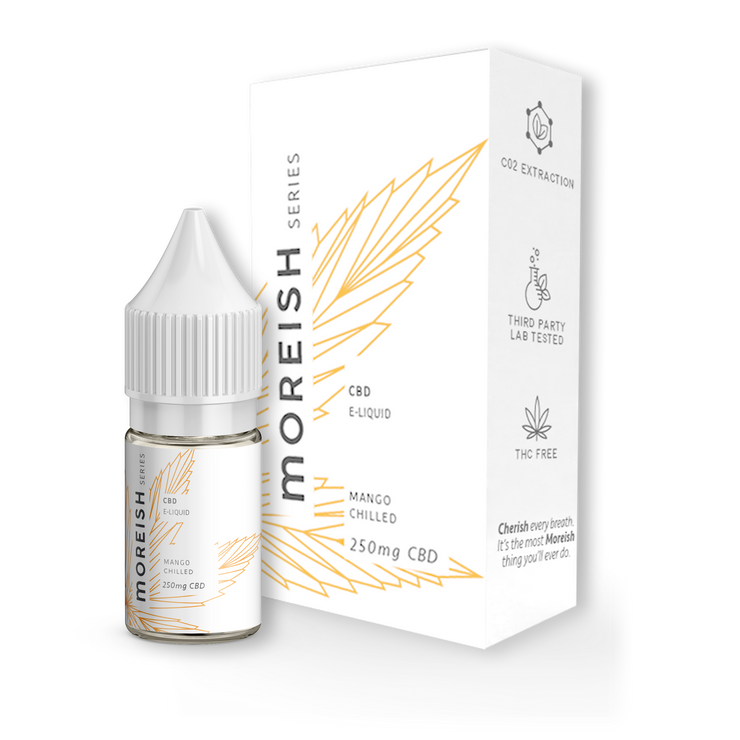 Exotic mangoes are chilled to perfection in this refreshing vape.
This product contains CBD in strengths of 250mg and 500mg. This product is only to be used in e-cigarettes. Keep out of reach of children.
---
Naturally Grown

Batch Tested

Safety Is Our Priority!

THC Free

Premium Grade

USA Grown
Strength : 250mg, 500mg
Manufactured In: United Kingdom
Ingredients : Vegetable Glycerin (50%), Propylene Glycol (50%), CBD, Various Flavourings
Flavours : Mango
Bottle Type : Chubby Gorilla
Safety Sheet : Safety Sheet 250mg
Safety Sheet : Safety Sheet 500mg
Shipping Costs (UK)
FREE delivery

for

orders over £15.00
FREE Click & Collect (Tyseley, West Midlands, Birmingham)
£2.75 for Standard Delivery
£3.25 for Express Delivery
£4.99 for Next Day Delivery
£12.99 for Special Saturday Delivery
Delivery Information (Europe)
Free Delivery orders over £25
Standard Delivery (3-10 days) £4.95
UK orders made before 4pm are dispatched same-day, International orders are usually dispatched within 12-24 hour. If there is a delay dispatching your item, you will be contacted and updated on the status of your order.
We use multiple delivery companies including UPS, DPD and Royal Mail. Any relevant tracking details will be attached to your order if applicable and can be found on your order e-mail or via the 'My Account' section on the wesbite
What is CBD?
CBD (short for cannabidiol) is one of the many active compounds found in the cannabis plant. It is the second biggest cannibinoid in the plant after THC. It is commonly used to help combat the physical effects of ailments such as anxiety, pain, insomnia and seizures. CBD is often prescribed in tablet form by GPs as a means of providing relief from those formally diagnosed with underlying health conditions.
What Are the Benefits of CBD?
There have been many studies into what benefits CBD can bring you. These studies have found that CBD can treat seizures, pain and anxiety among other things.
How Does CBD Work?
When CBD is taken, it binds to cannabinoid receptors in the endocannabinoid system. These receptors are in almost every cell and tissue type in the body. This is then taken to the brain or whereever it needs to go.
What are CBD E-Liquids?
CBD E-Liquids are liquids used for vaping that contain CBD. These e-liquids do not contain nicotine, and instead have CBD in.
What is Vaping?
Vaping is the process of inhaling and exhaling vapour produced by an e-cigarette. This can be done due to the e-cigarette heating the e-liquid when it is activated.
What is in the Moreish Series E-Liquids?
In our e-liquids, we have our flavourings, Propylene Glycol, Vegetable Glycerin and CBD. These liquids do not contain nicotine or THC.
How Can I Get The Right Dosage From CBD E-Liquids?
First, work out how much CBD is in your tank by dividing the strength of the CBD liquid by the amount of e-liquid in your bottle, e.g. if you have a 250mg 10ml bottle, there will be 25mg per ml, and for a 2ml tank, there will be 50mg. Next, work out how much you vape to find what dosage you get per puff. If your tank contains 100mg and you vape half of your tank, you've vaped 50mg. If it takes 200 puffs, you vape around 1mg per puff.
How can I contact Moreish Series?